My Hamptons
Love Is In The Air On The East End: 7 Great Date Ideas For Every Budget
Finding love anywhere can be challenging! The frenetic Hamptons summer schedule can make falling in love harder. That's why I am here to tell you some perfect pick-up spots and the dream date bucket list must-dos!  Get outside and enjoy the sun, all while getting to create unforgettable summer memories with your sweetheart. – by Lucie Lott
The Southampton Golf Range!
Putting into my heart: The Southampton Golf Range is the perfect place to go on a fun date night out with your significant other! The range is an ideal stop along the road to see if your skills will take you pro or back home! With a fun energy and delicious food by Local Burger Co., you will have a night to remember. 
Local Burger Co. With a typical American offers a classic burger shack cuisine. In addition, the a wide selection of french fry seasoning and savory burgers. Creak open a beer with your date while you toss bean bags for corn hole! Are you feeling adventurous? Try the batting cages, then finish out the night with a game of adorable mini golf on an 18 hole course.
Parrish Art Museum!
For couples that love art, a perfect date night spot could be the Parrish Art Museum. Each Friday features a different event, such as last week's discussion with the personal and its screening director. Keep an eye on the Friday night Specials. 
Perfect Picnic!
A beach chic setup with incredible cuisine makes for a memorable date created and set up by Hamptons Aristocrat. 
Bucket list dates! A beautifully delish picnic by Hamptons Aristocrat is a must!  Perfect setup for a celebration date.
Cowfish & Rumba!
Does dinner on the water dinner with a short but sweet boat cruise from Cowfish to its sister restaurant Rumba sound good? If so, this place is for you. The sangrias at Rumba and sushi at Cowfish are must-haves!
The Most Charming Breakfast Spot!
Change up the "normal" dates with a relaxing morning breakfast at The Hampton Maid!  All incredible homecooked style comfort breakfasts.
The Surf Lodge
The Surf Lodge is the hottest spot in the Hamptons for summer concerts.  Check out their lineup here:  The Surf Lodge and cross your fingers you will get in!
Wolffer Wine Stand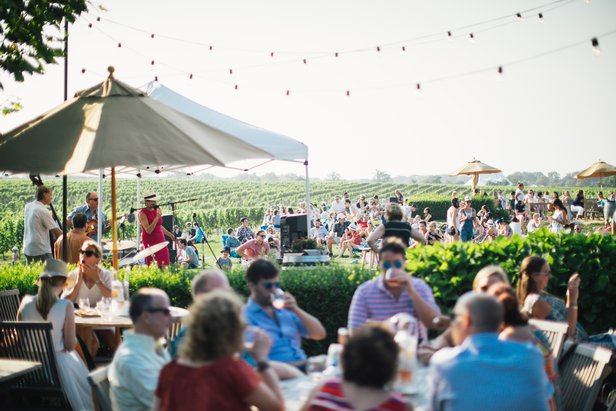 For wine-loving couples, a chill Summer Sunset at the Wolffer Estate is a perfect pairing. Listen to live music and try a flight of different Wolffer wines as you overlook the vines. 
By Lucie Lott